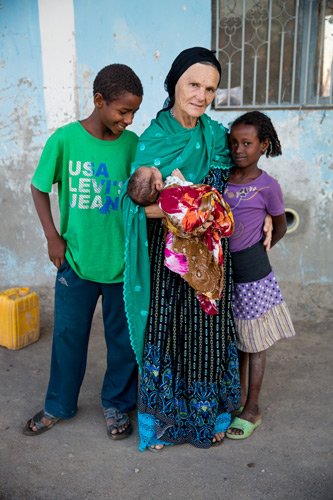 Australian nurse Valerie Browning AM has lived among the Afar nomads for more than 31 years and has worked tirelessly to improve their lives. The Afar region is one of the poorest places on earth where temperatures regularly hit 50 degrees and one in three children die before the age of five.
Valerie has been described by Channel 9's 60 Minutes as "one of our unsung national treasures".
In 1989, with her Afar husband, Ismael Ali Gardo, she set up the Afar Pastoral Development Association (APDA). APDA works hard to improve literacy for the Afar people, promote maternal and child health, eradicate harmful traditional practices such as Female Genital Mutilation (FGM) and tackle the growing problem of HIV and AIDS with support from funds raised by the Barbara May Foundation. To date, APDA has trained more than 1,000 local health and education workers, and village birth attendants.
In 2011, the first maternity hospital in the region, funded by the Foundation and servicing more than 500,000 women, the Barbara May Maternity Hospital, was built and became operational. In addition, out-reach services are provided to remote villages, and eight triage units have been established along the main road that are equipped to assist high-risk and emergency deliveries.
Valerie was awarded an Order of Australia in 1999 for service to international humanitarian aid through promoting health and literacy programs in the horn of Africa. Valerie was also awarded Rotary International's The One Award in 2012 which recognises an individual whose extraordinary service activities exemplify the Rotary ideal of Service Above Self.
The wonderful book of Valerie Browning's astonishing life in the Afar region of Ethiopia is available to purchase online through Dymocks Australia: MAALIKA – My life among the Afar nomads of Africa. 
Programmes supported wholly or in part by the Barbara May Foundation include:
. The building and operations of the Vision Maternity Care Hospital in Barhirdar, Ethiopia.
. The operations of the Barbara May Maternity Hospital in Mille, Ethiopia.
. Kivulini Maternity Centre – Maternity Africa, Tanzania. This centre provides obstetric services and an extensive fistula repair programme which includes significant outreach programmes.
. Tertiary education of local medical professionals.